Çoban
Çocuk yaşta beni dağa attılar
Kepenek altında sabah eyledim
Önüme bir sürü davar kattılar
Toz toprak içinde iflah eyledim.
Kuru somun peynir soğandı aşım
Ot saman olurdu hep üstüm başım
Karışırdı terim ilen göz yaşım
Bazen isyan edip günah eyledim.
Yaylanın düzünde kışlamız vardı
Koru buram buram ardıç kokardı
Yazın güneş çarık gibi yakardı
Yaban hayatı ben essah eyledim.
Gün doğmadan sürü dağlara yürür
Derelerden bazen duman sel yürür
Karanlıkta sanki çalı dal yürür
Sabrımı korkuya silah eyledim.
Dağda taşta zormuş karın tokluğu
Kapatır yolları karın çokluğu
Aklıma düştükçe yarin yokluğu
Kavalla dertleşip ferah eyledim.
Saf masum hayvanlar can dostum oldu
Yaylalar ovalar neşeyle doldu
Patikalar huzur veren yol oldu
Baykuş konan ini dergâh eyledim.
Coşkuyla meleşir kuzu koyunlar
Kaymak gibi sütler sımsıcak yünler
Bir ömre bedelmiş o kutsal dünler
Hiç aklımdan çıkmaz eyvah eyledim.
Dünyadan habersiz gözden ıraktım
Çoban olmak için belki çıraktım
Ben sevdamı dağda,kırda bıraktım
Divane gönlümü ıslah eyledim.
Bir nefes gibiydi geçti seneler
Kulaklarımda hep kuzular meler
Harmanda savrulup uçtu teneler
Düvenler üstünde semah eyledim.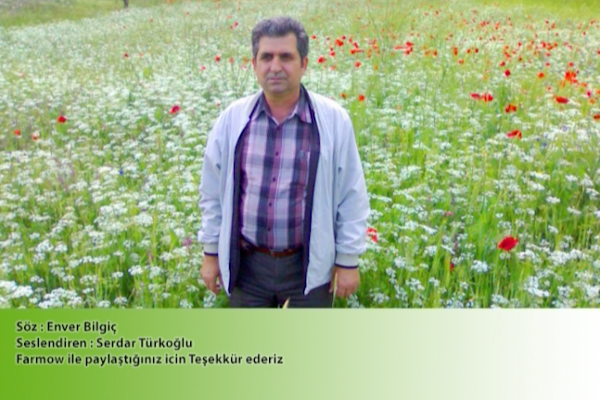 ---
Use of the information/advice in this guide is at your own risk. The Farmow and its employees do not warrant or make any representation regarding the use, or results of the use, of the information contained herein as regards to its correctness, accuracy, reliability, currency or otherwise. The entire risk of the implementation of the information/ advice which has been provided to you is assumed by you. All liability or responsibility to any person using the information/advice is expressly disclaimed by the Farmow and its employees.