İnek Doğumlarında Yapılan Hatalar Ve İhmaller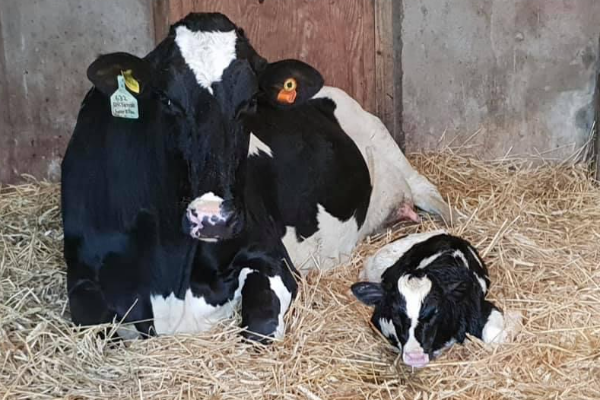 Halkımızın çok iyi bildiği bir anekdot vardır; Adamın biri kuyuya düşmüş. Etrafındakiler adamı kurtarmışlar ve bir doktor çağıralım demişler. Adam "hayır" demiş. "Bana daha önce kuyuya düşen bir adam çağırın." Bu yazıda daha önce kuyuya düşen adam bendeniz olacağım ve ineklerdeki doğum vakalarında tecrübelerimi hem üreticiler hem de veteriner hekim meslektaşlarımla paylaşacağım. Umarım faydalı olurum!
İlk önce doğum nedir bir tarif edelim; Hayvan türlerine göre değişen sürelere göre dış ortamda yaşayabilecek hale gelmiş yavrunun yavru zarları(plasenta) ile birlikte rahim'den(uterus) dışarı çıkarılmasına doğum denir. İneklerde buzağılama diye tabir edilir.
Doğum Sanılan ve Onunla Karıştırılan Vakalar Nelerdir?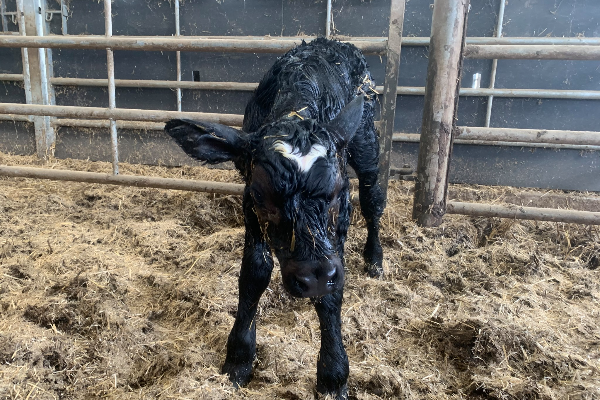 *Prolapsus Vagina: Gebe ineklerde vajina gebeliğin son ikinci ve üçüncü ayından itibaren çeşitli nedenlerle vücut dışına çıkabilir. Özellikle de vulvadan dışarı çıkan vajina gangren olmuşsa hayvan çok fazla ıkınma ve sancı yapar. İşte bu sancılar doğum sancısı sanılmaktadır.
Ayrıca vajina dışarı çıktığı zaman alt kısmına açılan idrar kanalı bir şekilde bükülür ve hayvan idrar yapamaz. İşte bu idrar sancısı da doğum sancısı ile karıştırılır. Bazı üreticiler bu sancıları doğum zannederek telaşla veteriner hekim çağırırlar. İşin ilginç tarafı bu şekilde şartlanmış bir üreticiyi vakanın doğum olmadığına ikna etmenin çok güç olduğunu biliyoruz. Daha önce bir yazımda belirttiğim gibi biz ahırdan ayrıldıktan sonra hayvana müdahale edilmiş, dışarı çıkan vajina parçalanarak hem inek hem de buzağı ölmüştür. Bu durumu çok yaşadık.
Bir vakanın doğum olabilmesi için yavrunun ön ayaklarının, başının veya arka ayaklarının en azından rahimden vajinaya geçmiş olması, genellikle ve bir aksilik olmadığı sürece yavru keseleri içinde çıplak gözle görülecek şekilde olması gerekir.
Burada yapılması gereken mutlaka vajinal muayenedir. Asepsi ve antisepsiye riayet edilerek ve bir doğum eldiveni giyildikten sonra, bir kayganlaştırıcı sürdüğümüz elimizi vulvadan servixe doğru uzatmalı ve içeride ne olup olmadığını görmeliyiz. Rahim girişinin (Cervix) bize doğru olan ucu (Apertura Pelvis Caudalis) açık mı kapalı mı ve içeriden yavru geliyor mu görmeliyiz.
Burada bir tecrübemizi daha anlatalım; ineğimiz felç oldu, ayağa kalkamıyor şikayeti ile gittiğimiz bazı vakaların sürpriz bir şekilde doğum olduğunu ve ineğe doğum yaptırdıktan sonra hayvanın hemen ve kolayca ayağa kalktığına şahit olduk. Hayvan sahipleri bazen hayvanın gebe olduğundan habersiz olabilir.
*Sancılar: İneklerde bazı bağırsak sancıları, timpani vakaları vs. doğum ile karıştırılabilir.
Doğumda Önden Geliş ve Arkadan Gelişler Nasıl Ayırt Edilir?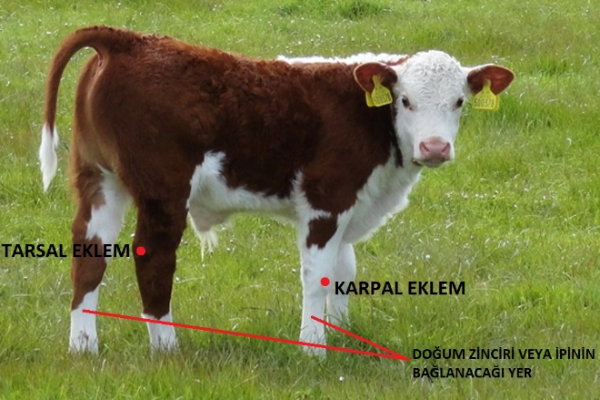 Bazı meslektaşlarımızın çiftliklerde bu konuda tereddüte düştüklerini ve doğum heyecanı ile önden geliş ve arkadan gelişi karıştırarak buzağıyı aşırı zorladıklarını gördük.
Önden gelişte resimde de görülen karpal eklem yuvarlak olarak hissedilir. Başın burun ve göz kısımları ve hatta kulağı ele gelir.
Arkadan gelişte kuyruk ele gelir ve buzağının Tarsus eklemi yan tarafındaki iki çukur ile karpal eklemden ayrılır. Arkadan gelişten şüpheli vakalarda mutlak kuyruk aranmalıdır.
İkiz gebelerde uzunluğuna arkadan geliş ile birinci buzağı doğar. Bu durumda ineği kontrol edip normalde uzunluğuna önden gelen ve başı hissedilen diğer buzağının olup olmadığı kontrol etmemiz gerekir.
Doğumda Rahimin Giriş Kısmının Açılmaması Durumunda Yapılması Gerekenler Nelerdir?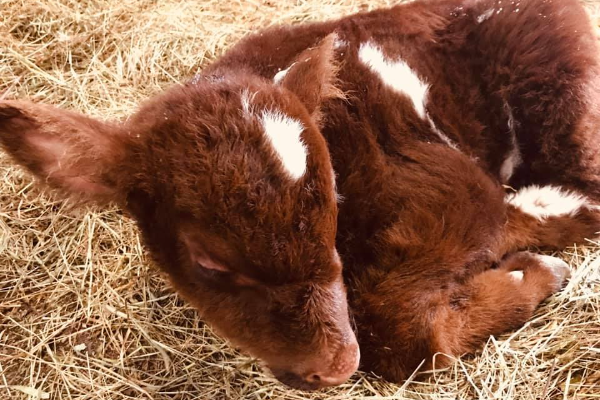 Bu konu uzun süren meslek hayatımızın önemli bir tecrübesidir. Meslektaşlarımızın bu durumda rahim giriş kısmının (A.P Caudalis) ensizyon ile genişlettiklerini duyduk. Bu da kanamalara ve ineğin ölümüne yol açar.
Servixin açılmaması 2-3 gün hatta 4 gün sürebilir. Oksitosin 30 IU + Östrogen 10 mg enjekte edilirse, 4-10 mg ergotin enjekte edilirse servix açılabilir.
Bendeniz doğumlarda 10-15 cc deri altı atropin sülfat flk. enjekte ettim. Yarım saat içinde servix açıldı ve doğum başarılı şekilde gerçekleştirildi. Atropin antikolinerjik etkisinden dolayı düz kasları gevşetir ve A.P Caudalis açılır.
Yine de başarısız olunursa sezaryen operasyonu gereklidir.
*Doğumda göz çengeli tarafımızdan uzun yıllar kullanılmıştır. Doğrusu bendeniz göz çengeli ile dost idim. Doğumda başarı ile kullandım ve buzağılara hiçbir zarar vermedi. Meslektaşlarımıza göz çengeli kullanmak konusunda cesaret vermek isterim. Göz çukuru son derece dayanıklıdır. Yalnız hayvan sahibi, buzağı doğduktan sonra herhangi bir sebepten dolayı hastalanırsa sizi göz çengelinden dolayı suçlayabilir. Onun için göz çengelini serviksten kafa geçtikten sonra vajinanın içindeyken çıkartmak çok iyi olur.
*Sırası gelmişken doğum krikoları hakkında da kanaatimi söyleyeyim. Buzağılarda kırıklara yol açtığı için kullanmayı tercih etmediğim bir aletti. Sadece insan gücüyle doğum olmayacaksa o. Sezaryeni tercih edilmelidir.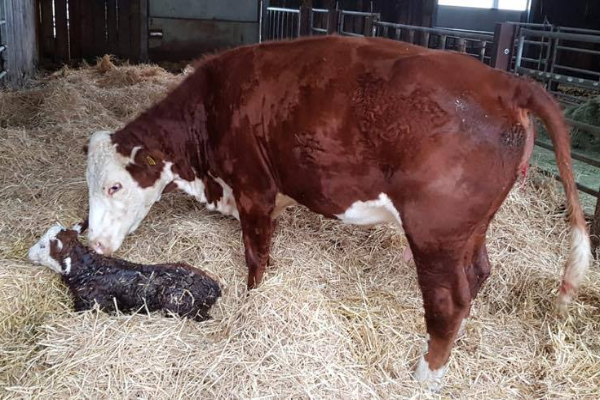 *Burada da adeta sosyal bir konudan bahsedeceğim. Hayvan sahipleri güç doğumlarda ya veteriner hekimi geç çağırmakta, ya kendisi yanlış müdahale etmektedir. Ya da çevresinde bulunan ve doğum yaptırabildiğini zanneden insanları çağırmakta ve maalesef inekler ve buzağılar kaybedilmektedir. Bütün hayvan güç doğumlarında yurdumuzun en büyük handikabı budur.
*Çiftliklerde gördüğümüz bir hatayı ve ihmali burada anlatalım; Doğum yapan ineklere ya erken ya da geç müdahale edilmektedir. Buzağının kafası ve ayakları vulvadan çıkmış; fakat inek yorgun düşmüş olabilir. Sancılar kesilmiştir. Bu durumdaki hayvanlara mutlak müdahale etmek gerekir.
*Buzağının uzunlamasına arkadan gelişinde güçlü bir yardımcı tarafından kucaklanması gerekir. Arkadan gelişte kalça çıkmış, arka ayaklar çıkmış, omuz ve baş kısmı henüz çıkmamıştır. Doğuma yardım edenler heyecanlıdır ve bütün güçleriyle buzağıyı asılmaktadır. Aniden kurtulan buzağı kafasını şiddetle yere çarpar. İşte bu durum ölüm sebeplerinden biridir. Meslek hayatımda bu konuyu hiçbir literatürde okumadım. Arkadan gelişte büyük handikaplardan biri budur.
*Doğumlarda üreticiler tarafından kullanılan iplerin çok kalitesiz olduğu gördüm. Doğum gibi ani gelişen bir olayda buzağıyı asılacak uygun bir ip olmaması doğumda gecikmeye yol açıyor. Kullanılan ip ince parmak kalınlığında ve asılınca uzamayan bir ip olmalıdır. Doğum zincirleri bu konuda son derece güvenlidir.
*Başımızdan geçen bir hastalık da Brucelladır. Meslektaşlarımızı doğumda bu hastalığa karşı gereken tedbirleri almaları konusunda uyarmak isterim.
Sağlıklı ve başarılı çalışmalar dilerim.
---
Use of the information/advice in this guide is at your own risk. The Farmow and its employees do not warrant or make any representation regarding the use, or results of the use, of the information contained herein as regards to its correctness, accuracy, reliability, currency or otherwise. The entire risk of the implementation of the information/ advice which has been provided to you is assumed by you. All liability or responsibility to any person using the information/advice is expressly disclaimed by the Farmow and its employees.