Angus Cattle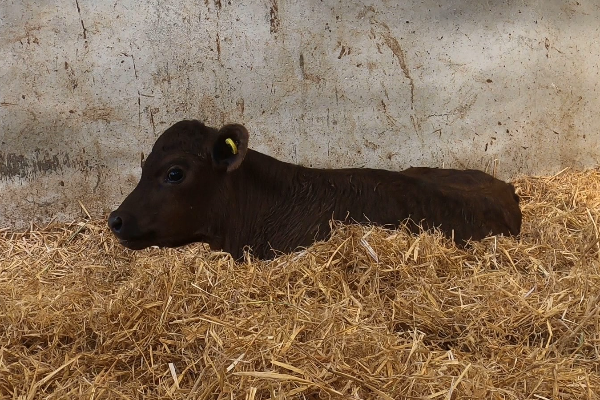 The Angus breed was developed in the early 19th century from polled and predominantly black cattle of Northeast Scotland, known locally as "doddies" and "hummlies". In the northeastern part of Scotland, Aberdeen, Banff, Kincardine and Angus These counties touch the North Sea and all extend inland and have some high or mountainous terrain.
Although the topography of the country is harsh, they have been preferred throughout the ages, with a mild climate and good crops. Pastures are in good condition in the area due to well distributed rainfall. Abundant grass and also an almost ideal temperature for cattle production.
What is the History of the Angus Cattle Breed?


Although little is known about the early origin of cattle, later referred to as the Aberdeen-Angus breed, it is thought that breeding began in the last half of the 18th century on the original stock found in the area.
Cattle found in Northern Scotland were not uniform in color, and most cattle in the early days had various color marks or broken color patterns. Most of the cattle were polled, but some had horns. The traits we commonly call surveys were often referred to in ancient Scottish writings as "humble," "doddies," "humlies," or "homyl."
Two strains were then used in the formation of the known Aberdeen-Angus cattle breed. In Angus County, cattle known as Angus doddies had existed for some time.
The earliest families trace back to the middle of the eighteenth century but it was much later that the Herd Book (1862) and the Society (1879) were founded. The early history of the breed is the history of its breeders, progressive lairds and farmers, of whom three were outstanding. Hugh Watson became tenant of Keillor in
Angus in 1808. He gathered stock widely and produced cattle of outstanding quality and character. Hugh Watson could be considered the founder of the breed and was instrumental in selecting the best black, polled animals for his herd. His favorite bull was Old Jock, who was born 1842 and sired by Grey-Breasted Jock. Old Jock was given the number "1" in the Scotch Herd Book when it was founded.
Another of Watson's notable animals was a cow: Old Granny who was born in 1824 and said to have lived to be 35 years old and produced 29 calves.
A vast majority of Angus cattle alive today can trace their pedigrees back to these two animals. By line breeding and selection for type, the early pioneers established in Angus, Aberdeenshire, Speyside and the Laigh of Moray, the greatest of beef breeds.
Stock from this area continued to lead the breed well into the 20th century while Aberdeen-Angus cattle became spread throughout Scotland, England and Ireland. Angus are a truly international breed, they are the dominant breed in the USA, Canada, Argentina, New Zealand and Australia.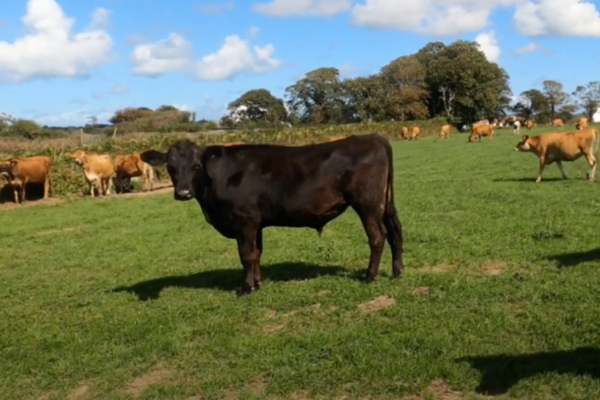 In Australia one in four cattle registered are Angus plus at bull sales, 30% of cattle sold are Angus. Angus have also spread to South Africa, Brazil, Denmark, Norway, Sweden, Spain, Germany and of course they still remain popular in Britain. Black Angus are now the most popular beef breed of cattle in the United States.
The First Angus In America. When George Grant transported four Angus bulls from Scotland to the middle of the Kansas prairie in 1873, they were part of the Scotsman's dream to found a colony of wealthy, stock-raising Britishers. Grant died five years later, and many of the settlers at his Victoria, Kansas colony later returned to their homeland. However, these four Angus bulls, probably from the herd of George Brown of Westertown, Fochabers, Scotland, made a lasting impression on the U.S. cattle industry.
When two of the George Grant bulls were exhibited in the fall of 1873 at the Kansas City (Missouri) Livestock Exposition, some considered them "freaks" because of their polled (naturally hornless) heads and solid black color (Shorthorns were then the dominant breed.) Grant, a forward thinker, crossed the bulls with native Texas longhorn cows, producing a large number of hornless black calves that survived well on the winter range.
The Angus crosses wintered better and weighed more the next spring, the first demonstration of the breed's value in their new homeland. Early Importers and Breeders. The first great herds of Angus beef cattle in America were built up by purchasing stock directly from Scotland. Twelve hundred cattle alone were imported, mostly to the Midwest, in a period of explosive growth between 1878 and 1883 . Over the next quarter of a century these early owners, in turn, helped start other herds by breeding, showing, and selling their registered stock.
What Are The Characteristics Of Angus Cattle?
Angus cattle are naturally polled and can be black or red in colour although black is the dominant colour, white may occasionally appear on the udder.

They are resistant to harsh weather, undemanding, adaptable, good natured, mature extremely early and have a high carcass yield with nicely marbled meat.

Angus are renowned as a carcass breed.

They are used widely in crossbreeding to improve carcass quality and milking ability.

Angus females calve easily and have good calf rearing ability.

They are also used as a genetic dehorner as the polled gene is passed on as a dominant characteristic.

Calving ease and vigorous, live calves - the Angus cow consistently delivers a calf that hits the ground running, with little assistance required.

The Angus mothering instinct is very strong, as is the calf's instinct to get up and suck within the first few moments after birth.

Superb mothers with superior milking ability, the Angus cow is renowned for her maternal traits, calving ease and ability to milk producing a calf each year that more than exceeds half her body weight. An Angus mother puts her all into her calf, producing an abundance of milk right up to weaning.

Early maturity, fertility and stayability, the Angus cow does her job well, whether it's her first or her fourteenth calf. Stability (a cow's continuing ability to bear calves) is more than just a word with Angus it's not unusual for 12- and 13-year-old Angus cows to be productive.

Naturally polled no dehorning is required with Angus cattle as they carry a highly heritable, natural polled gene. Horns can cause bruising and tearing and good animal care is another reason to choose Angus.

No cancer eye or sunburned udders, the dark skin and udders of red and black Angus cattle mean that sunburned udders are rarely a problem. Similarly, cancer eye is not prevalent in Angus cattle.

Adaptable to all weather conditions, Angus thrive under all conditions with a minimum of maintenance.

Superior feed conversion, a recent study of crossbred cow types demonstrated that Angus-cross were among the most efficient, providing higher net returns on investment.

Natural marbling for tasty, soft beef is asking for more marbled carcasses to meet market consumer demand. The marbling heritage is moderately high. The correlation between marbling and tenderness is also moderately high, so sensitivity increases when cattle producers choose for marbling. Using Angus cattle with their superior marbling capabilities leads to increased beef sensitivity and greater consumer acceptance for beef Preferred carcass size and quality.
Studies show that Angus bulls can be selected to produce offspring capable of AAA classification without compromising feed yield or animal growth and increasing yield rating at the expense of carcass quality.
What is the weight of Angus Beef?


Angus Cows are typically 550 kilograms and Angus bulls 850 kilograms.
---
Use of the information/advice in this guide is at your own risk. The Farmow and its employees do not warrant or make any representation regarding the use, or results of the use, of the information contained herein as regards to its correctness, accuracy, reliability, currency or otherwise. The entire risk of the implementation of the information/ advice which has been provided to you is assumed by you. All liability or responsibility to any person using the information/advice is expressly disclaimed by the Farmow and its employees.