Beulah Speckled Face Sheep




What is the history of Beulah Speckled Face Sheep?
The Beulah Speckled Face is a breed of domestic sheep originating in the United Kingdom. Having been bred in the uplands of Wales for more than a hundred years, a breed society was officially formed in 1958. 
This breed is most common in Eppynt, Llanafan Fawr, Abergwesyn, and Llanwrtyd Wells, and it is little known outside Wales. 
The origins of the breed are unclear; it may be a truly native breed that has been selected to suit the local environment for centuries.



What are the characteristics of Beulah Speckled Face Sheep?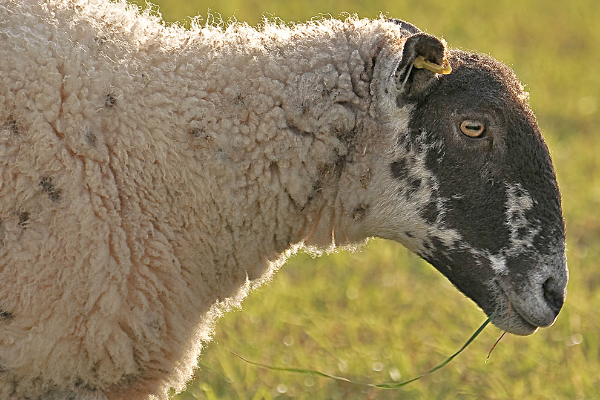 The breed is named for its distinctly patterned black and white face, which is free from wool. 
The ewes, which are naturally polled, are often crossed with lowland rams such as the Suffolk, Texel or Bluefaced Leicester to breed mules, and to produce market lambs for meat. 
When bred pure, the lambs do not meet today's export demand for lean, fast-growing sheep. However the ewes are well known for their mothering and milking qualities. 
The Beulah Speckled Face is a medium-sized breed although it is fairly large for a hill sheep. The face is free of wool and is white speckled with black, with a black muzzle, black around the eyes and around the ears. 
Neither ewes nor rams have horns and the legs are also black and white.
The fleece, which weighs from 1.4 to 3.5 kilograms (3.1 to 7.7 lb), is white with no dark fibres. 
The staple length is 7.5 to 12.5 centimetres and the diameter of the wool is 25 to 36 microns. The wool has little crimp and dyes easily. 
Finer quality used in cloth and knitting yarns. Coarser quality used in carpets.
What is the weight of mature Beulah Speckled Face Sheep?
Average Beulah Speckled Face ewes weigh 50 kg, and 
Beulah Speckled Face 
rams weigh 85 kg.
---
Use of the information/advice in this guide is at your own risk. The Farmow and its employees do not warrant or make any representation regarding the use, or results of the use, of the information contained herein as regards to its correctness, accuracy, reliability, currency or otherwise. The entire risk of the implementation of the information/ advice which has been provided to you is assumed by you. All liability or responsibility to any person using the information/advice is expressly disclaimed by the Farmow and its employees.