Welsh Hill Speckled Face Sheep


What is the history of Welsh Hill Speckled Face Sheep?
The breed is thought to have been developed in the hills of central Wales by crossing Kerry Hill and Welsh mountain sheep during the 20th century, later becoming popular over a wider area of upland Wales.
The Welsh Hill Speckled Face Sheep Society was established in 1969.
Welsh Hill Speckled Face sheep continue to be found predominantly in mid-Wales, with other notable pockets found further afield, especially in North Wales.
What are the characteristics of Welsh Hill Speckled Face Sheep?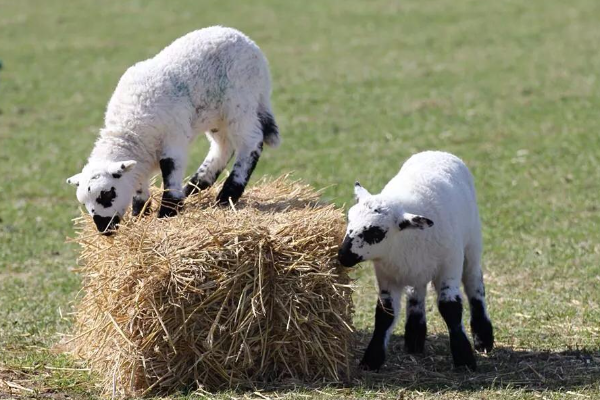 As its name would suggest, the Welsh Hill Speckled Face has a white face with a black muzzle and black markings around the eyes and ears.
The legs are mainly white but with black markings on the front knees, feet and back of the hind legs. Breeder selection means only 10% of rams now have horns, while females are always without horns.
They have a quiet temperament and make excellent, careful mothers. They lamb easily, have a plentiful milk supply and defend their young. The Welsh Hill Speckled Face lambs have a strong desire to live, grow quickly and develop to form the quality of carcase demanded by the current market.
Lambing is predominantly outside in March with a successful 150% ratio easily achieved. The draft ewe is much in demand to produce the Welsh Mule through crossing with the Blue Faced Leicester and is equally successful when crossed with other terminal sires.
The majority of purebred lamb carcasses weigh between 16 –18kg with crossbred lambs exceeding 20kg.
What is the weight of mature Welsh Hill Speckled Face Sheep?
Welsh Hill Speckled Face ewes weigh between 60 – 70kg with the Welsh Hill Speckled Face rams tipping the scales at 80 – 100kg.
---
Use of the information/advice in this guide is at your own risk. The Farmow and its employees do not warrant or make any representation regarding the use, or results of the use, of the information contained herein as regards to its correctness, accuracy, reliability, currency or otherwise. The entire risk of the implementation of the information/ advice which has been provided to you is assumed by you. All liability or responsibility to any person using the information/advice is expressly disclaimed by the Farmow and its employees.